 Aircore Mobility
Infinitum is pushing the boundaries of motor technology with a liquid-cooled, smarter air core motor design that can deliver premium performance for mobility applications. At a fraction of the weight of conventional motors, our Aircore Mobility motors dramatically improve efficiency and reliability while also offering high-speed, excellent torque, and a modular design. As a result, Aircore Mobility motors are well suited for drivetrain and propulsion and auxiliary motor applications for Class 1-8 commercial vehicles as well as aerospace, marine, construction, and agricultural applications.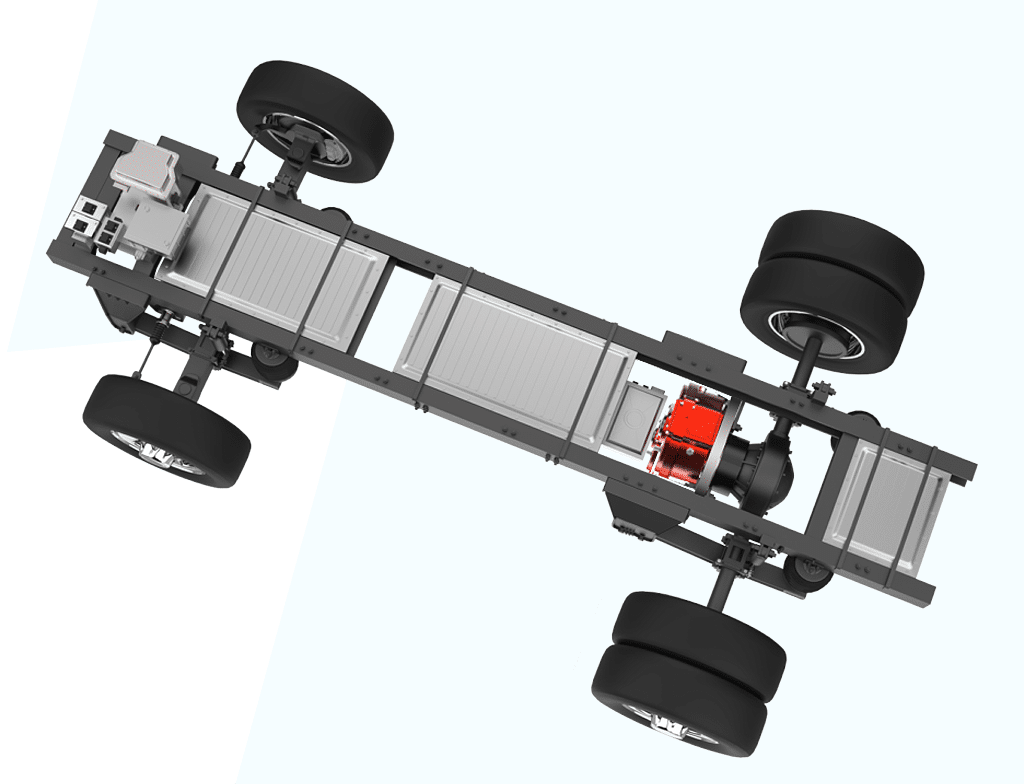 Commercial Vehicle and Other Mobility Applications
Propulsion Motors
Aircore Mobility motors are designed for mobility applications including Class 1 to 8 commercial vehicles, aerospace and marine applications, and heavy machinery. Engineering teams can add power, from 50 to 250 kW, without significantly increasing the size and weight of the drivetrain. Using an axial flux design, Aircore Mobility motors generate more torque and faster rotation in a smaller package. With our modular disc design, engineers can build multi-stator, multi-rotor motors that offer high power and increased performance. Our innovative design also allows for a highly efficient oil-cooling system that cools the interior stator, helping increase power density by three to five times.
Auxiliary Motors
EVs require up to 50 small electric motors to power infotainment systems, heating and AC, window controls, and even the power steering. This means small, lightweight auxiliary motors are critical for maintaining the efficiency of the vehicle. By etching copper coils directly onto the PCB stator our Aircore Mobility motors eliminate the heavy iron core and copper windings used in conventional motors, cutting motor size and weight in half. This design also makes Aircore Mobility motors highly reliable and durable. And, by using air-cooling technology rather than noisy fans, Aircore Mobility motors keep noise low in today's ultra quiet EVs. 150 kW Electric traction motor specifications
| | |
| --- | --- |
| | 150 kW continuous power |
| | 300 kW peak power |
| | 190 Nm continuous torque |
| | 7,500 RPM nominal speed |
| | 10,000 RPM peak speed |
| | 20kg active mass |
| | 95% peak efficiency |
| | Class 4-6 |
Reimagining Motors with Aircore Mobility
Motor development tailored to your specific mobility application needs
To keep pace with the demand for commercial vehicles that are more powerful yet more efficient, the ability to quickly iterate on designs and alter components based on changing needs is critical. This is why we collaborate closely with customers working on these applications, tailoring each Aircore Mobility motor to meet the specific application needs. Our motors use a modular design with the flexibility to add the number of stators and rotors that best suit your power and torque needs. We also provide simple and cost-effective prototyping and production since any local contract PCB manufacturer can produce the motor, avoiding potential supply chain issues.
Aircore Mobility Resources
---
Aircore Mobility
product brochure
A new innovative printed circuit board stator technology for EV motors
We tested oil cooling on our electric motor.
Here's what happened.
Learn More
Talk to one of our expert engineers to discuss the details of your transportation application needs.