Gen4 Aircore EC
Smaller. Lighter. Quieter. | Coming 2024
We've designed a motor with future generations in mind, going beyond efficiency and taking the entire lifecycle into account by using fewer resources to produce it, less energy to run it and a commitment to remanufacture it.
You can find everything you need for Gen4
on this one-stop-page (scroll on).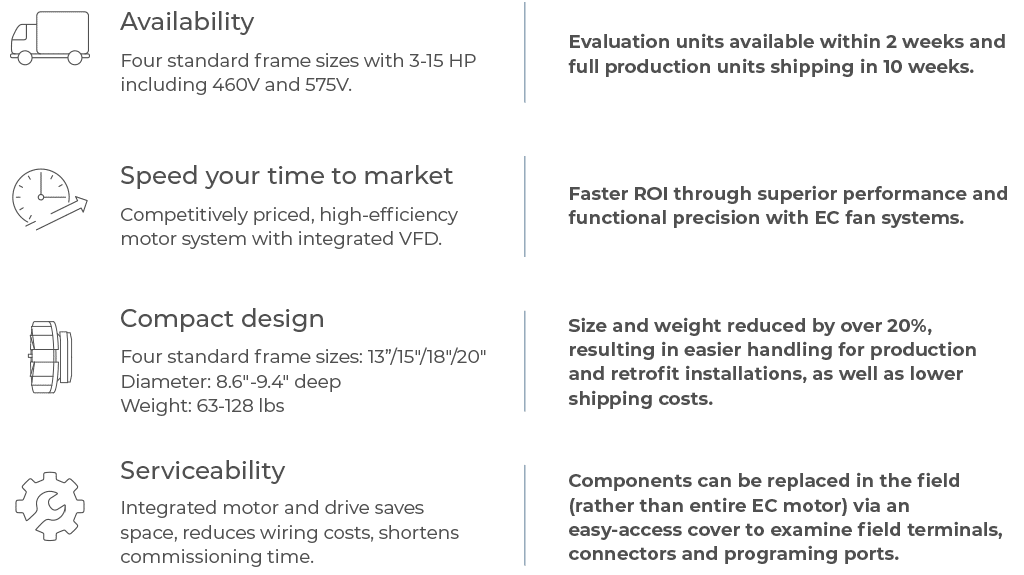 Power, intelligence, and controls all in one
Smaller, lighter, more efficient motors
HVAC fans
HVAC FansAircore EC motors are smaller and lighter than traditional iron core motors, making it possible for OEMs to directly mount the motor on the fan to develop smaller systems with increased efficiency. With our smaller and lighter motor, HVAC system designers can use arrays of these individual fan/motor units to create reliable systems that are easier and cost effective to install and maintain.
Pumps
In addition to the benefits provided by our integrated motor and drive package, our Aircore EC motors are specifically designed to safeguard against dust ingress and water splashing in harsh environments. The compact disc-like shape of our motors offers a much-needed option for confined spaces and facilitates easy serviceability within confined spaces where pumps are typically necessary.
Data centers
Efficient, sustainable data center solutions designed with flexibility in mind. Infinitum's high efficiency motors and environmentally-forward technology support lower carbon emissions through modular design. Our circular design strategy is centered around reliability, serviceability, and remanufacturing.
Material handling
With high-performance and efficiency available across a wide range of operating speeds, Aircore EC motors are well positioned to provide reliable operation for industrial conveyor and materials handling applications that need high torque and high power at a relatively low RPM. Our motors are rated to function reliably across an operating temperature range of -25° to 40° C and 95 percent relative humidity.
Solutions to fit your needs
The Aircore EC is the market's most comprehensive, customizable range of power and frame sizes. Our motors can be ordered with pre-defined conventional ratings or we can customize name plates to meet your specifications.