Class-Leading
Industrial Fan Motors
Available Now
Stop waiting on backordered motors. Infinitum Aircore EC motors, powered by innovative PCB stator technology, are available in 12 weeks or less.
With class-leading efficiency, the Aircore EC motor and integrated VFD comes in a package that is 50 percent lighter and smaller than a traditional iron core motor. All Infinitum motors also feature embedded IoT technology with advanced monitoring, control, and data capabilities for smart motor performance. Minimize downtime with superior motor reliability and convenient serviceability.
Efficient, Reliable, and Serviceable
Best-In-Class Efficiency
Aircore EC motors easily mount directly to fan applications and increase efficiency by 10-15 percent over conventional systems. Infinitum motors run at variable speeds, saving energy at off-peak times and maintaining efficiency.
Superior Reliability
Long-lasting reliability is built into the Aircore EC with innovations like PCB stators and integrated drives, predictive modeling techniques, and extensive testing to identify and mitigate failure risks.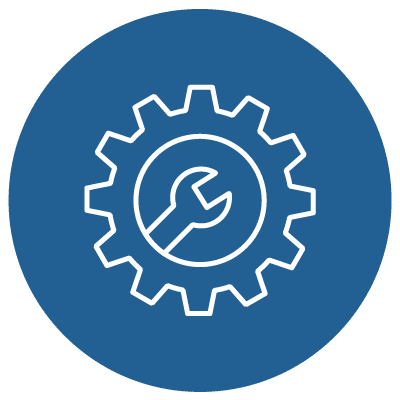 Convenient Serviceability
Minimize downtime, extend the lifespan, and increase the sustainability of your motor with Aircore EC's easily accessible components, modular design, comprehensive resources, proactive maintenance, and ready support.
A Comprehensive Range of Power Options
Benefit from unmatched flexibility with the market's broadest range of power and sizing options for HVAC and industrial applications.
Customize your Aircore EC power and frame size for a variety of applications or select from our broad range of pre-defined conventional motor ratings.
Get fast delivery on these motors,
in stock today:
Move Air Efficiently in Your Facility
---
Commercial HVAC
Significantly reduce energy usage and increase system lifespan by programming our motor's VFD to intelligently power the numerous fans required for your commercial HVAC systems.
Data centers
With ~40 percent of a data center's energy usage dedicated to powering 24/7 cooling equipment, reducing energy usage is essential. Infinitum motors can help by making cooling efforts 10–15% more efficient.
Exhaust fans
With our direct drive motors powering your exhaust fans, components prone to breaking down are eliminated, keeping air flowing as required and ensuring proper ventilation to keep employees safe.
Air handling units
Our innovative lightweight PCB stator combined with low-volume, high-energy product magnets and direct coil cooling provides two to three times the current density of a conventional motor, helping you optimize the energy usage of your air handling units.
---
Smaller, lighter, more efficient motors.
Install an Aircore EC Motor in Your System
Get an evaluation motor today